Tax Report Newsletter March April 2019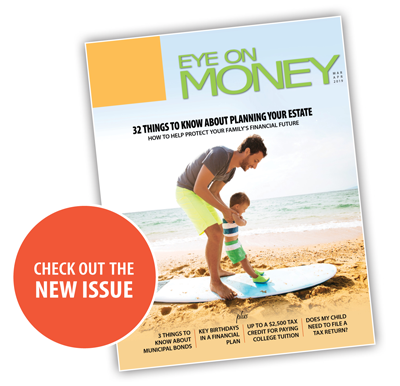 We invite you to check out the new issue of Eye On Money! Inside are articles on:
Planning your estate. Learn about ways to transfer wealth, minimize or avoid probate, and plan for the day when you are not able to manage your own finances.
Key birthdays in a financial plan. Some rules regarding your finances change on certain birthdays.
We'll tell you which ones they are.
Do your young children need to file a tax return? They may if their income exceeds certain amounts.
The American Opportunity Tax Credit. If you pay college tuition, this tax credit has the potential to put up to $2,500 per student back in your pocket if you are eligible to claim it.
Also in this issue, you can check out five things that may surprise you about your 2018 federal tax return and three things to know about municipal bonds. Plus, you can vicariously tour the sights of Lisbon, Portugal, discover where to spot the first signs of spring, and take a quiz on anniversaries occurring in 2019.
Please let us know if you have questions about anything in Eye On Money.