Newsletter
Our newsletters are full of tips, reminders and timely advice to help you stay well-informed when it comes to your business and personal finances. The information-rich articles cover topics that are important to you including- retirement, investment, education, estate, gift, and personal tax planning.
---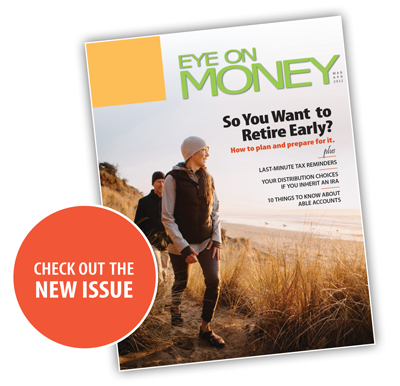 Planning for long-term care. Learn about your odds of needing it, the costs, and what you can do to help prepare for those potential costs.
The cost to raise a child. Find out what families spend on average to raise a child.
6 ways to simplify your finances and reduce the time you spend managing them.
Individual bonds or a bond fund, which is better? Here's a look at four of their key differences.
Also in this issue, you can check out three things you may not know about IRAs, peruse nine ways to make the most of a tax refund, learn about the types of investments that may be helpful in generating retirement income, and see what financial tasks newlyweds should tackle. Plus, you can explore the coastline of Ireland, find out how New Orleans is celebrating its tricentennial, and test how much you know about travel destinations from around the world.
Please let us know if you have questions about anything in Eye On Money.